Krakatau Volcano Trips 2017

-organizing trips for volcano enthusiasts since 2010

Krakatau, is a volcanic island made of lava in the Sunda Strait between the islands of Java and Sumatra in Indonesia. The name is used for the island group, the main island (also called Rakata), and the volcano as a whole. The island exploded in 1883, killing approximately 40,000 people, although some estimates put the death toll much higher. A new island volcano, named Anak Krakatau or Child of Krakatoa rose above the waterline in 1927. Anak Krakatau has grown at an average rate of five inches (13 cm) per week since the 1950s. This equates to an average growth of 6.8 meters per year. The island is still active, with its most recent eruptive episode having begun in 1994. Quiet periods of a few days have alternated with almost continuous Strombolian eruptions since then, with occasional much larger explosions.
See my photo section for photos of the volcano: here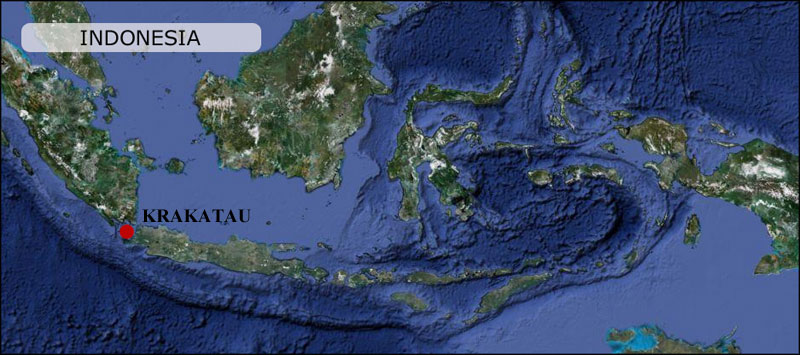 Current Activity
(*Updated 22th March 2017)
Last eruption confirmed 17-18th February 2017. The eruption in February caused a lava-flow on the SW flank of Anak-Krakatau. Anak-Krakatau is currently emitting a modest degassing plume. More activity should be expected. See summary from my last visit
 Trips to Krakatau:
Schedule
Nights
Availability
On request
1-3

 February-October 2017

.
On a trip to Krakatau, we will normally depart from Jakarta, where we will pick you up at your hotel or Jakarta International Airport.  With our private airconditioned vehicle we will drive to Anyer on coast of West-Java (+/- 3,5 hours), were a chartered speedboat will be waiting to take us over the Sunda Strait to Krakatau. On arrival at the cost of West-Java, we will meet our local crew that consists of the local guide, boat crew and a cook. The local crew are hardworking and honest people who will make sure we are comfortable during our trip.  Travel time to Krakatau is 1.5-2.0 hours. The boat is equipped with life-wests and your luggage will be stored in a dry compartment during the voyage.
On arrival on Krakatau, we will set camp on a island neighboring the active Anak-Krakatau cone. (Verlaten Island,  Lang Island or Rakata island).  On these islands you will be located 3-4 km from Anak Krakatau, where you can sit on the beach to watch the volcano.  Tents will be put up and comfortable beach chairs will be provided. Food and drinks will be prepared by our crew. The food consists mainly of Indonesian food (barbequed seafood etc), but we are open for requests.
I hold knowledge of the current volcanic-activity at Krakatau, as i`ve been visiting the volcano regularly since 2009. I will do my best to give you a good insight on the volcano. Depending on your level of interest, I can give you a extended explanation of the known history of Krakatau and show you volcanic ash-layers and rocks (pumice and obsidian) from the 1883 eruption and up until today. If you are already familiar with Krakatau, and you want to focus on your own photography and/or exploration, our crew will make sure you are comfortable when doing so.
Depending on the volcanic-activity, we may also visit the active Anak-Krakatau cone,  If the current volcanic situation allows it, you can choose to hike to the first level of the old crater rim.  With our boat we will also cruise around Anak Krakatau to find the perfect view. Jungle treks and snorkeling can also be arranged in the area.
I have almost 15 year`s experience in travelling and living in Indonesia and speak the Indonesian language.  My approach towards the volcano is highly conservative and I will oversee that the safety aspects on the trip is taken care of, this is priority.
On the return from Krakatau we will make sure you arrive in Jakarta (city or airport) by the time requested by you.
Note:On the majority of the trips I arrange I will be your main guide, but a very knowledgable Indonesian english speaking guide may also perform this role on the trips that I cannot participate in. I arrange these tours on a hobby basis, in order finance my own study- and photography of the volcano. I only arrange overnight trips to Krakatau, and not daytrips.
Things to prepare for the trip:
– Sleeping bag. (If you dont have a one I sell new ones for 250.000IDR)
– Toilet accessories.
– Comfortable walking shoes
– Swimming wear.
– Sunscreen and sunglasses.
– Mosquito repellant.
– Flashlight.
– Camera equipment, tripod.
– Batteries
– Alcoholic beverages. (can be pre-ordered with me)
2017 Prices:
2 Days 1 Night

Price per

Person

(in IDR)

 

3 Days 2 Nights

Price per

person

(in IDR)

1 person

7.200.000

 

1 person

8.700.000

2 person

3.900.000

 

2 person

4.900.000

3 person

3.100.000

 

3 person

3.700.000

4 person

2.750.000

 

4 person

3.300.000

5 person

2.200.000

 

5 person

2.800.000

6 person

2.100.000

 

6 person

2.600.000

7 person

1.800.000

 

7 person

2.500.000

8 person

1.700.000

 

8 person

2.400.000

9 person

1.550.000

 

9 person

2.300.000

10 person or more

1.500.000

 

10 person or more

2.100.000
*Prices updated: 9th March 2017.
The prices include:
– Transport to/from Jakarta in private car (Less than 4 people= car. More than 4 people=Minibus)
– Speed boat (max 7 guests per boat. More than 7 guests= 2 boats) (boat has safety wests)
– Quality food and beverages for the whole stay on Krakatau (vegetarian food available)
– tents
– comfortable beach chairs. (total 4)
– Local crew consisting of a local guide, boat captain, and a cook.
– a visit to the volcano observatory (if open for visitors)
Notes:
– Prices are quoted and payable in Indonesian Rupiah (IDR).
Booking:
For booking-requests and questions, please send me an email in good time before the trip
When making a booking-request, please send me the following information:
Name, age and citzenship of guests intending to join the trip.

Date of travel.

Any other requests
Thereafter, an deposit of 2.000.000IDR (Indonesian Rupiah) (or other currencies equivliant) should be paid to be able to confirm the booking. The deposit is used to book the means of transportation, and should be paid at least 7 days before the departure date and are payable by paypal, or by person in Jakarta. The remaining amount is payable in Indonesian Rupiah on the start of the trip.
After an deposit is made and the tour is confirmed, please inform me: 
– How many tents do you need.
– Any food allergies/food of preferance (we serve mostly seafood and Indonesian food)
– The address of where to pick you up on the date of departure.
– Any other information that may be relevant.
Important notes:
In the case of a cancellation by the customer, the deposit is considered lost (as the deposit fee is already paid to the boat owner).  In the case of a cancellation of the tour by me, before the departure date, the deposit will be fully refunded.
In the case of a full or partly cancellation of the trip because of the weather-situation, rough seas or volcanic activity, the deposit is considered lost and other incurred costs such as, but not limited to, transportation and food supplies. The remaining amount will be returned to you.
Contact:
Please contact me on my email if you want to book a trip or need information regarding Krakatau.
Email: Andersen_oystein@hotmail.com