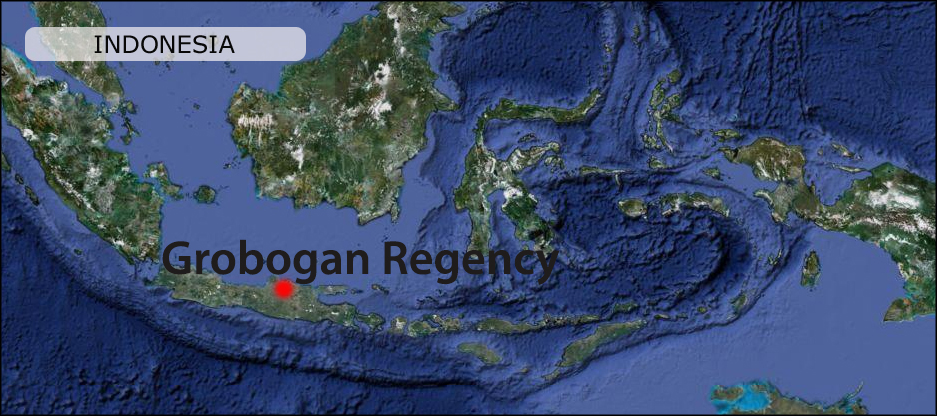 Published: 15th August 2019
Location: Grobogan, Central-Java, Indonesia.
I had only seen this site on a aerial photo prior to arriving, and I didn't really know of its name of this field. The locals call this field `Bledug Crewet` (maybe also called `Bledug Jengolo`). On the site stands a memorial (or tomb) of a local man named Raden Surojengolo Crewek (see photo 25.), the site is obviously named after him. I did not have the opportunity this time to ask more about his background and why this site was given his name. 
On arrival, I was first very surprised by the looks of this field, but I remember getting the feeling that something felt artificial about the place. Over 20 pools of water in different colors (green, yellow, grey, brown..) exist here (See photo 3,7,10,11 & 14 ). Some chemical processes must be behind this.  Bubbles ascend trough the water in many of the pools. The ground on the field is rocky (See examples 3, 5, 21, 22 & 23). Very different from the other Bledugs (mud volcanoes) in the Grobogan regency, as none of the other sites consist of rock, or at least thats what I have noted. Some of the rock have a yellow coating, and some the rock and ground are covered with white powdery grains (salt?) (see photo 20). Some interesting patterns on some of the rocky floor too (See photo 18-20). The whole field has a length of approximately 100m and with around 90m.
It has after my visit gotten my attention that, according to a source i found online, that the site have been subject to salt mining. So it is with good reason I believe that some, or maybe all the pools, are excavation holes made by locals. That might explain the perfect shape of at least some of the pools (see fpr example photo 9). By being so different than the other Bledugs (mud volcanoes) in the area, and consisting of so much rock, im confused whether to call this a Bledug (mud volcano), or if its a hot-spring, a old dried out mud volcano (bledug) or something else? 
____________________
Total photos in this article: 25 available in Jpg/Raw.). (50+ photos not published)
Total videos: – (drone) (Available in 4K)
Photos and Videos published are available for purchase only. Photos below were taken by drone.  If you want to purchase photos or videos, please see this page
____________________
8th August 2019