7-9th May 2016



Updated: 10th May 07:15 local time.
Activity of the Volcano
The ongoing eruptive activity that started in December 2015, had a short period of rest between the end of February until the end of March. During this period the activity was dominated by degassing but no ash-venting/eruptions. The Indonesian Volcanology Survey  (PVMBG) noted a increase in seismic activity in the first week of April, that was followed by new eruptive activity, similar to the activity during December-February. During the second week of April, the activity decreased again and only weak to moderate degassing plumes have been observed during until first week of May.
Judging from my overall visits to the area during November 2015 – May 2016, my impression of the last eruptive phase of Bromo is that it seems smaller than the eruption 2010-2011. This is based on 1. The overall impact of volcanic material to the area. 2. The smaller amount of volcanic material produced (ash, lapili and the absence of bombs/volcanic blocks)
Note: The eruptive phase might still be ongoing.
7-9th May
During the 7-9th May only weak to moderate degassing plumes was observed. On a brief visit (sulphur gas made the visit rather unpleasant to the eyes) to the crater area on the 8th May, traces of the recent volcanic eruptive activity was observed. A ash layer coated the area, but no larger volcanic bombs or blocks were found. The crater vent was observed, and the northern part was seen to be clogged with accumulated volcanic material, and the degassing plume was originating in the southern part of the crater. This might indicate that the recent eruption might have been originating from the sourthern part of the crater.
7th May

8th May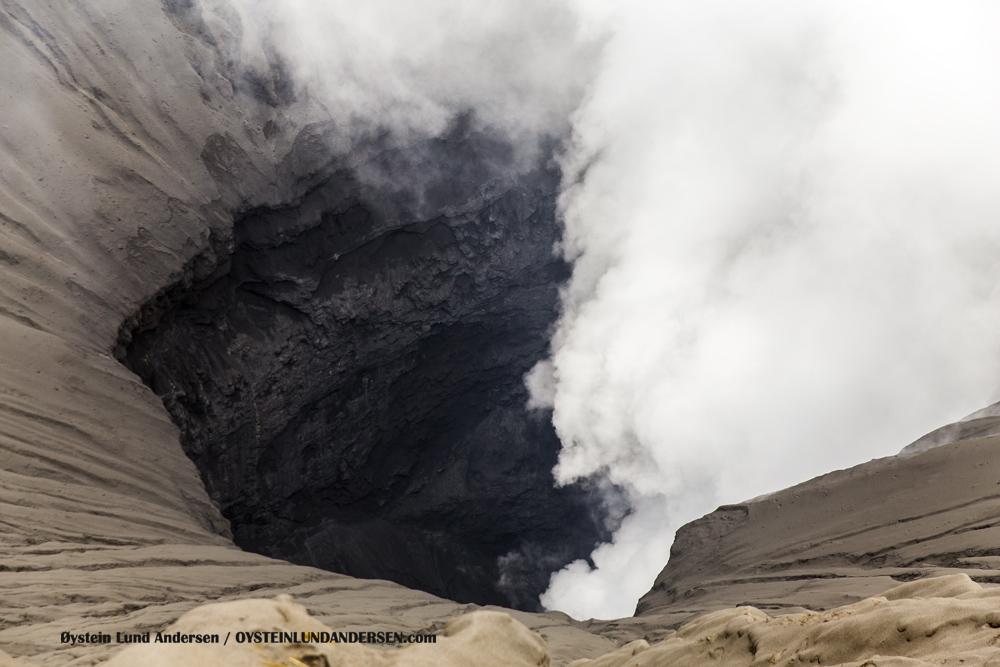 9th May